Elli Nude Kinky in the kitchen
The bigger her toys are, the better Elli Nude likes them. While preparing a salad in the kitchen, she suddenly felt the urge to play with herself, and there was a huge cucumber on her table that gave her a wild idea. Her pussy got dripping wet and she was ready to shove that big cucke deep inside her pussy! Take a look at her moaning loudly while she slides that big fucking toy deep inside her. Also. ElliNude will put that vegetable into her mouth just to show us that she can deepthroat. Take a look.
As you already know, the redhead gets horny all the time as she is having this dirty little mind that will offer her all the time this great memories from her amazing fucking sessions. So when she reminds something like that, the redhead gets instantly wet. Well, the cucumber reminded her about this new dildo of her which is pretty big, like that vegetable. So she instantly wanted to feel if the cucke feels the same. Watch her spreading her legs, lubing the vegetable with her mouth and forcing it into her cunt. She actually loves the feeling and will go deeper and faster until she orgasms all over the camera just for your viewing delight.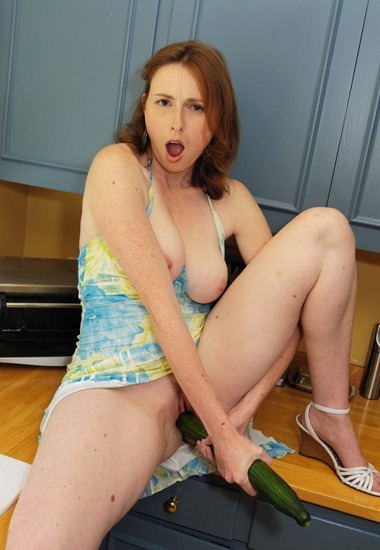 Watch as Elli fucks herself with a cucumber!